With the contents of this kit, you'll be well on your way towards meeting OSHA Standards when cleaning with compressed air in your facility.
Kit Contents: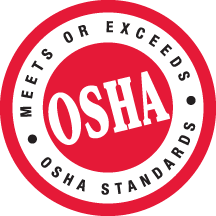 ---
4 Steps to OSHA Compliance
STEP 1: Hold a Plant Safety Meeting
Watch the 8-minute Air Gun Safety in the Workplace Video to identify potentially dangerous workplace practices related to air gun usage, to outline corrective actions, and to ensure OSHA compliance. For more details on the OSHA Standards, refer to Meeting OSHA Standards for Cleaning with Compressed Air Booklet.
STEP 2: Identify and Remove Non-Compliant Air Guns
Walk the plant floor and visit each workstation where air guns are employed. Visually
inspect each air gun and use the Dead-End Pressure Gauge per Instructions to identify air guns with output pressure over 30 psi. Record non-compliant air guns on the OSHA Compliance Worksheet. Disconnect and dispose of non-compliant air guns.
STEP 3: Select OSHA Compliant Safety Air Guns
Understand the cleaning requirements at each workstation and to select the proper OSHA compliant safety air guns, see the Meeting OSHA Standards for Cleaning with Compressed Air Booklet and the Guardair Safety Air Gun Catalog.
STEP 4: Reinforce Safe Practices
Display the Air Gun Safety Poster in a prominent, in-plant location visible to employees.
For more information or questions, contact Guardair at info@guardair.com.
---
Air Gun Safety in Workplace Video
---
Kit Components for Download
---
*Available only at no charge to Guardair distributors and qualified end-users.
Also available for purchase.